CRISPR-Cas – van biologie naar toepassing
In verband met Covid-19 worden de lezingen tot nader order online gegeven middels het programma Microsoft Teams.
Avondlezing door prof.dr J. van der Oost georganiseerd door de Chemische Kring Zwolle.
CRISPR-Cas – van biologie naar toepassing
Samenvatting
In een poging de wereld te verbeteren, heeft de profeet Jesaja de volgende legendarische woorden gesproken: "laten we de zwaarden omsmeden tot ploegen, en de speren tot snoeimessen". Wat Jesaja niet kon vermoeden was dat deze uitspraak niet alleen een inspiratiebron is geweest voor pacifisten onder ons, maar ook voor microbiologen. In microbiologische laboratoria verspreid over de hele wereld (waaronder in Wageningen) heeft fundamenteel onderzoek aan "biologische wapens" onlangs letterlijk en figuurlijk de basis gelegd voor uiteenlopende toepassingen in de biotechnologie en in de gezondheidszorg. Het CRISPR-verhaal is een prachtig voorbeeld van hoe fundamenteel, nieuwsgierigheid gedreven onderzoek (in dit geval naar een bacterieel afweersysteem) heeft geresulteerd in een technologie die een grote impact kan hebben op onze samenleving. We staan aan het begin van een nieuw tijdperk. Enkele resterende grote technische uitdagingen van menselijke CRISPR-toepassingen betreffen de specificiteit en het afleveren van het systeem in specifieke weefsels. Afgezien van deze praktische problemen, zijn de kansen van op CRISPR gebaseerde genoombewerking alleen beperkt door onze genetische inzichten, door onze collectieve verbeeldingskracht, en niet in de laatste plaats door wat we ethisch aanvaardbaar vinden. Jesaja zou waarschijnlijk trots op ons zijn: de zwaarden worden momenteel omgesmeed in allerlei hele nuttige ploegen. Als we er verstandig mee om gaan kunnen we daar hele mooie dingen mee doen!
Curriculum Vitae: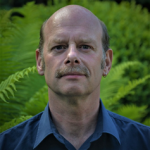 John van der Oost (1958) obtained his PhD at the Free University (Amsterdam 1989). After postdoc positions at Helsinki University and EMBL-Heidelberg he returned to Amsterdam in 1992 with an KNAW fellowship. Since 1995 he is group leader of the Bacterial Genetics group in the Laboratory of Microbiology at Wageningen University. After obtaining an NWO-VICI grant, John was appointed Full Professor in 2005. The first ten years, his group focussed on discovery of novel enzymes, pathways and regulatory systems, using integrated approaches of molecular genetics, biochemical and genomics. In addition, optimization of enzymes was performed by using laboratory evolution. From 2005 onwards, a new research line was initiated, addressing microbial host-virus interactions. Initially the focus was on the E.coli CRISPR-Cas system (NWO-VICI; 2005), later moving to prokaryotic variants of the Argonaute nuclease (NWO-TOP; 2010), and to a novel CRISPR nuclease Cpf1/Cas12a (NWO-TOP; 2015). In addition, he is PI of the NWO gravitation project (2017) that aims at Building a Synthetic Cell. He has been coordinator of an EU project and a Marie Curie Research Training Network. He was elected as member of EMBO (2013), the Royal Netherlands Academy for Arts and Sciences (KNAW, 2017), the Royal Dutch Society for Science and Humanities (KHMW, 2019), and the Academia Europaea (2019). He is author of >300 peer-reviewed scientific papers (>40,000 citations), and has an H-index 85. He is inventor of >30 patents, co-founder/advisor of NTrans Technologies and advisor of SCOPE Biosciences. In 2018 he received the Spinoza prize (NWO), and in 2020 the Lennart Philipson Award (EMBL).
Introducé(e)s zijn van harte welkom.
Nadere informatie over de lezingen kunt u aanvragen via het CKZ e-mailadres: ckzsecretariaat@gmail.com.