NOMINEES WANTED FOR THE KNCV VAN MARUM MEDAL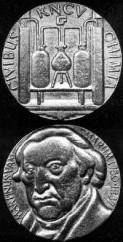 The general board of the KNCV welcomes the nomination of candidates for the Van Marum Medal, an award that is presented annually since 1987 to persons who made a significant contribution to the development and application of chemistry in our daily lives. For example, through important activities in the context of education, information provision and the concept of history.
Both young professionals and individuals with long careers who have been of exceptional service to the advancement of chemistry can be nominated.
To nominate a candidate for the Van Marum Medal, please send your letter of support (max. two A4 pages), a brief resume of the candidate, and the names of two individuals who support the nomination to kncv@kncv.nl, mentioning 'Van Marum Medal' in the subject line.