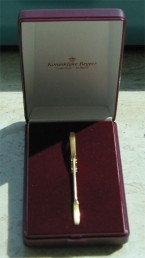 The KNCV has organised the Gouden Spatel award for the best higher education thesis in the field of chemistry every year since 1982. During an official award ceremony, the winner receives the award and a prize of EUR 1,000. In the case of sufficient high-quality nominees, two second prizes of EUR 250 are also awarded.
How to nominate a student
A student can be nominated by submitting two copies of his/her thesis to the KNCV office, stating 'KNCV Gouden Spatel'. In addition, a short statement explaining why the candidate should be considered for the award should be provided.
We will confirm receipt of the nomination request as soon as we receive all letters of support and theses. It goes without saying that all information will be treated confidentially.
This year's Gouden Spatel
Please note that this year's application for the Gouden Spatel award has passed. The winner will be revealed during the award ceremony at the 2017 'Avond van de Chemie'.