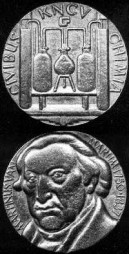 The Van Marum Medal is awarded every two years by the KNCV to persons who have made a significant contribution to:
Furthering the social awareness of chemistry.
The development of chemistry in society.
The application of chemistry in society.
For example through important activities in the context of education, information provision and the concept of history.
Martinus van Marum
Martinus van Marum (20 March 1750) held numerous positions after graduating from medical school. He was involved with the Vereeniging voor Nederlandsche Chemici (1790) and served as secretary of the Nederlandsche Vereeniging voor Wetenschappers (1804). He was also a corresponding member of the Académie des Sciences in Paris (1830). In 1787, Van Marum introduced modern chemistry in the Netherlands based on the theories of Lavoisier. In his career Van Marum was highly influential, if not responsible, for the advancement of chemistry as a scientific discipline.
Van Marum possessed the characteristics of a great researcher but was also very open-minded about social issues, a rare combination.